Hanwoonsa Memorial Museum
홈
Tourism destination
Hanwoonsa Memorial Museum
미리보기 문서로 변환중입니다.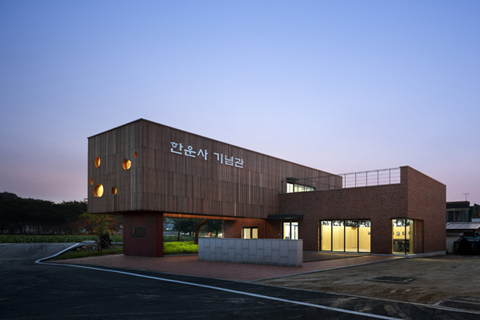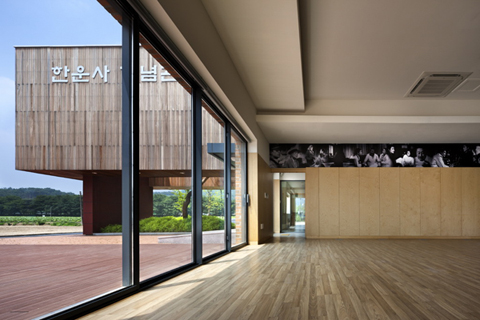 Location : 45-6 Cheong-an-eupnae-ro Cheong-an-myeon Goesan-gun Chungbuk (Eupnaeri Hanwoonsa Memorial Museum)
Classification : Museum
History

Construction completion : 2010. 11.(FL. 2 steel concrete structure)
Floor area : 239.59㎡, Building area 186.19㎡

Closed

day after government designated holidays (Monday of every week)
However, if Monday is a holiday, the museum is closed the next day
January 1st, New Year's Day, Chuseok
Other days designated by Goesan's county mayor

Opening hours

Summer season 09:00~18:00
winter season 09:00~18:00 (Fee : Free)
Exhibit Room 1 (Ssi), Exhibit Room 2 (Gil), Exhibit Room 3 (Ttam), Exhibit Room 3 (Gureum).
The artist's art works and life of sowing seeds, lives through tribulation, and sweat. In his works are reflected his philosophy of life and art. They are the symbols of his artistic theme. The museum is largely divided into two areas.
FL 1 consists of offices and multifunctional rooms where various events can be held or videos can be shown. The stills of photos and movies related to Han Woonsa's hometown are primarily exhibited. The theme of the entrance is "Ssi (seed); staircase, "Gil"; 2nd floor exhibition room, "Ttam"; outside terrace, "Gureum".
FL 2 The exhibition room has a ㅁ shape with the center being empty. Pictures are displayed along the outside wall. Through the center window you can see pine trees and clouds. The artist's famous quotes and dialects are engraved in the glass windows
About Han Woon-sa
The actual name is Gan-nam (看南). Han Woon-sa was born in Goesan, Chungbuk on January 15, 1923. He studied at Chuo University in Japan and Keijo Imperial Universityin Seoul. He dropped out from Seoul National University (French Major).
Han Woon-sa began writing for TV in 1948. He went on to write 20 screenplays, a novel "Hyeonhaetan-eun algo-itta" (1961) and TV and radio dramas, including "Nam-gwa-buk" (1971). He also wrote lyrics for "Jalsarabose" when Saemaeul Movement began in 1970.
Han Woonsa helped create the renaissance of dramatic arts in Korea and is considered the godfather of Korean TV dramas whose work dominated the scene based on his humanistic and idealistic depiction of man against the backdrop of the spirit of the age in which he lived. He was selected for the Hall of Fame by Korea Broadcasting Institute in 2002. He died on August 11, 2009 of old age.
Significance of Han Woonsa Memorial Museum
Han Woonsa is Korea's first generation drama writer and wrote countless TV dramas, screenplays and novels, including "Bbalgan-mahura" and "Nam-gwa-buk". The museum was built on his birthplace site to celebrate his literature and elevate the cultural pride and identity of Goesan-gun Cheong-an-myeon. The museum has an exhibition room, multifunctional room and outdoor concert auditorium. It is the first museum built to celebrate a TV drama writer and has many resources related to TV dramas.